---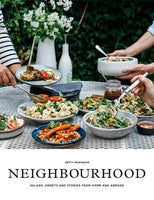 Sale
IN EVERY NEIGHBOURHOOD, THERE IS A COMPELLING STORY OF FOOD, FAMILY AND FRIENDSHIP
From the bestselling author of Community, Hetty McKinnon, comes a must-have collection of show-stopping yet simple vegetable-packed recipes, delivered against a backdrop of charming food, family and friendship.
These delicious, main-meal salad and sweet recipes are filled with exciting flavours from around the world, journeying from Brooklyn, New York City, to the greater Americas, the Mediterranean, Asia, France, Australia and many other neighbourhoods.
This is plant-based goodness at its very best, with recipes you'll want to make time and time again.
Featured in the MiNDFOOD October 2016 issue "must-have cookbooks"